Skip Navigation
Website Accessibility
Quilts of Valor
---
The mission of the Quilts of Valor Foundation is to cover service members and veterans touched by war with comforting and healing. Since QOV has started, over 190,000 quilts have been presented to veterans.
You can be a part of that, too. Volunteer your time every 4th Wednesday of the month from 1 pm - 5 pm at Sew Always. Bring your sewing machine and supplies and help us fulfill a much-needed duty. The group has patterns to help you get started!

Quilts of Valor will not meet the months of October, November, and December. They will resume January 2021.


Embroidery Sisters
---
Come and learn new machine embroidery techniques, project problem solving, and have a fun time sharing ideas and projects.
This group meets from 1 pm to 3 pm on the first Tuesday of each month.
Free Motion Quilting
The Free Motion Quilting group has as a common bond the goals to learn how to free motion quilt and to make time in busy lives to practice techniques and designs discussed in the group. Each month, members receive an email with links to articles and videos that demonstrate interesting designs.
The group meets on the 3rd Tuesday of each month from 10 am to noon.
Because of COVID, the decision on whether to meet is made anew each month.
Hand Embroidery
Come and enjoy great fellowship and sharing of ideas with a wonderful group of people who share the love of creating art with needle and thread.
This group meets every 2nd Tuesday of the month from 10 am to 3 pm.
Machine Applique
Come and meet for friendship, sewing, and lunch.
This group meets every 3rd Wednesday from 10:00 am to 5 pm.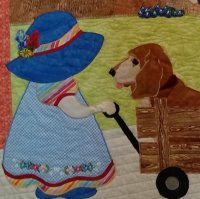 Handwork
Come
and work on your unfinished projects and handwork. It is always more enjoyable to work with friends than to work alone.
This group meets on the 3rd Monday of each month from 10 am to 3 pm.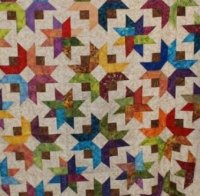 Red River Valley Quilt Guild
---
The Red River Valley Quilt Guild has brought inspiration and knowledge to quilters in the northeast Texas area since 2000. We began with 15 members forging "Links of Friendship," and our logo was born. We meet the 2nd Saturday of each month at 10:00 a.m. at the fair ground in Paris.
Sew-In
Sometimes you just need a larger space to lay out quilts and work Sew Always reserves 2 days a month for just that. Come in on the first Thursday or last Friday of the month from 10 am to 5 pm and work on any project you need at no cost.
Turning 25
This will be a new take on groups for Sew Always. The room will be reserved on the first and second Wednesdays of the month to work on any project. There will be a room fee of $25.00 to be split between the attendees per day. Come and have a fun and productive time.